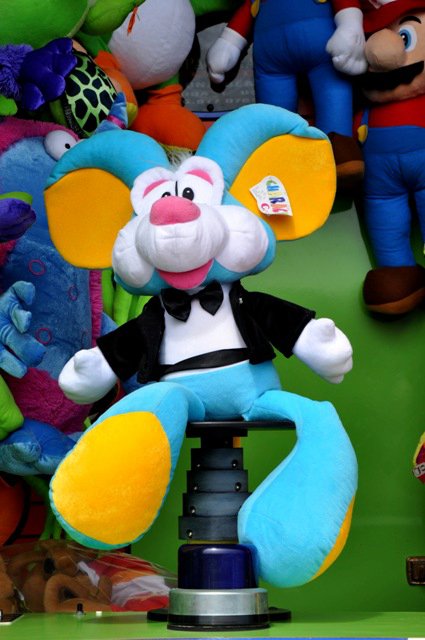 Tramore Amusement & Leisure Park is located 7 miles from Waterford City, situated beside a picturesque blue flag beach. With plenty of accommodation, bars and restaurants located within walking distance to the amusement park it is the perfect destination for everyone couples, families and friends.
The amusement park has been running for generations and provides a safe, secure and fun environment for everyone who comes through the gates. We have regular visits from special guests like Mickey and Minnie Mouse and Barney and friends. Free Facepainting is also a regular occurrence in the park.
Why not put the kids on one of the many kiddie rides like the tea-cups, hobby horses or let them bounce around on the trampolines while you sit back and enjoy a hot or cold beverage from one of the many food stalls and shops. Then take the whole family on the Waltzers, Mystery Hotel Funhouse or play a round of Mini Golf. If you're a little bit more adventurous why not give the Dominator, Megastar or Crazy Mouse a try and then a cool down on the Jungle River log flume. No matter which ride you try you are guaranteed a great time, so come along and spend the day making some great memories.
We have our annual "Monster Firework" show in August, which has been massive hit over the last few years and 2016 promises to be even better. We have a few new events coming this summer so keep a close eye here on the website and also on Facebook and Twitter.
Regina Condon – 5 star

We went down to this fantastic funfair on the August weekend as we do for as long as I can remember our family is extend

ing every year and there is something for all ages in this park it was spotless clean and we'll kept and we'll worth a visit we love visiting Tramore just to go to this park and I give this park 5 stars I have loads of pic on my page of the fun we had.

Sarah Lin – 5 star Had the best time ever here in July, the kids ask when are we going back on a daily basis!!! Customer service is second to none also, having really looked after our kids with an issue since which wasn't even remotely their fault!! Absolutely fantastic!!! Will defo be back next year and the kids can't wait!!! (Secretly neither can my partner or I haha).

Maecenas facilisis eleifend massa ac commodo.Donec at ullamcorper lectus, quis fringilla velit.Aliquam ipsum dui.

Mauris volutpat mi sed odio finibus commodo. Integer egestas eu elit vitae mattis.Curabitur auctor.
Spring opening times:
Weekends only from the 17th March. April – May Saturday & Sunday: 1pm till 8pm
Summer Opening Times
June – July – August – Monday – Sunday 12 pm – 11 pm.
Early September:
Saturday & Sunday : 1pm till 8pm